Digital Imaging Software
A Quicker, Easier Way to Manage Your Information
Your customers need their information and they need it now. That's when imaging is to paper what email is to letters – a faster, more efficient way of delivering and storing documents.
Schedule A Demo
Improve Your Level of Service
Streamline your operational processes, and positively impact your bottom line. Imaging allows you to eliminate time delays and the added cost involved with handling paper documents. With the ability to locate and retrieve documents instantaneously, you can immediately respond to your customer's questions and inquiries, in turn enhancing your customer service.
With O'Neil Imaging, you have a solution that gives your customers the ability to share information across large distances or multiple locations, fast. 
Store How You Want, When You Want
Whether you plan to store your images on your local network or in a secure FTP site, O'Neil makes it easy. Take your pick of robust storage options such as Image banks, The Stratus Database, or Digitech Systems.
Enjoy the power to choose how long you want your images to be available, all while enjoying the flexibility of choosing how you want your captures stored.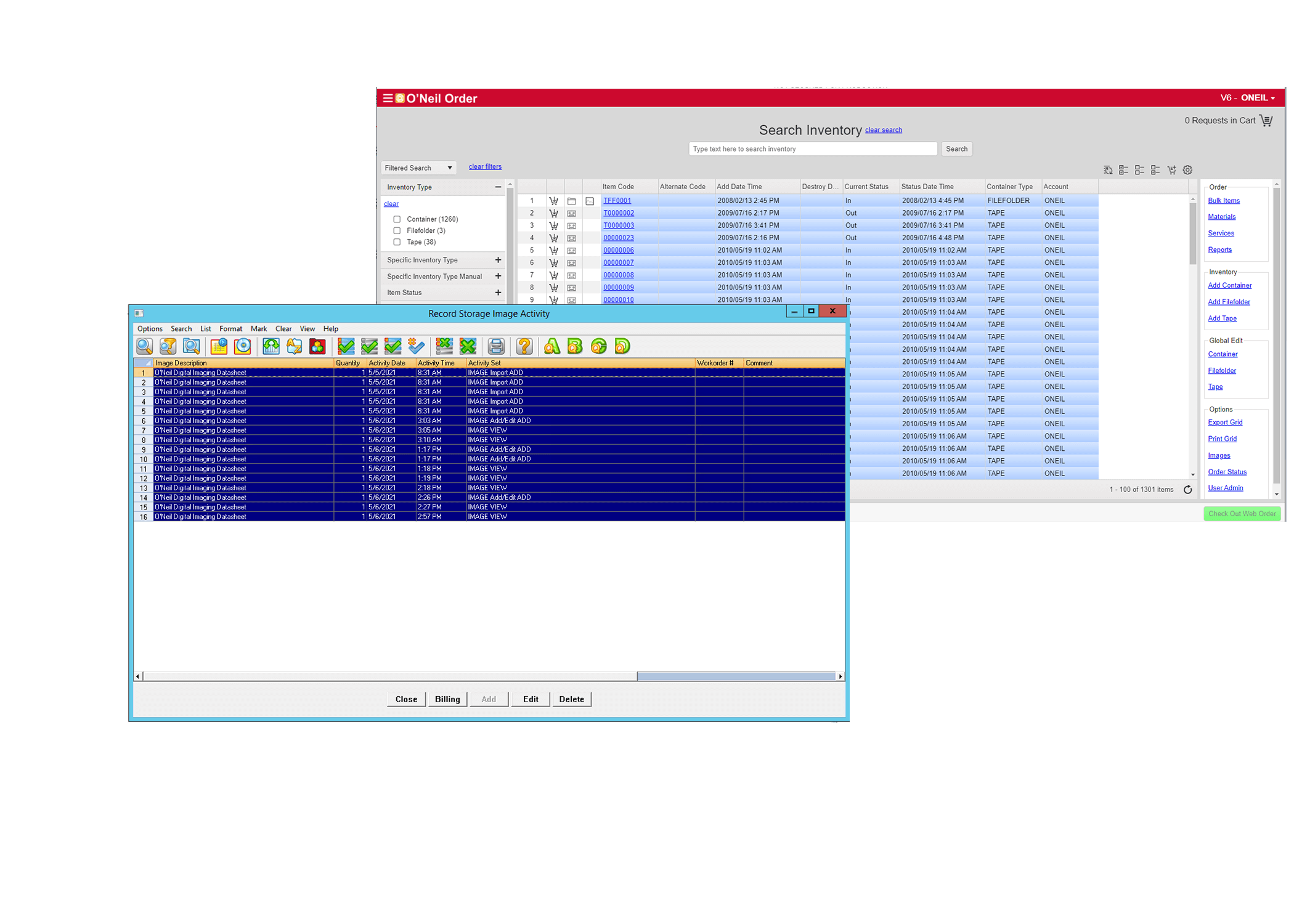 Automate Your Billing. Free Up Your Time.
O'Neil allows authorized users to access their images through O'Neil Order, a centralized web portal for all your customer's record management needs. Imaging requests and views are all tracked directly in our database, providing a simple, easy-to-understand history of each image.
With O'Neil's Imaging Software, Your user's activities are tracked and documented automatically for billing, leaving you free to focus your time and money on other strategic opportunities and core business activities.
Great Companies Use O'Neil Software
Learn How To Increase Profitability
Lower your large capital expenditures, relieve your IT burdens while increasing system availability, reliability, security, and business continuity.
Evaluate Software Features
See how our product solutions apply innovative use of advanced technology to increase business efficiency, productivity, and profitability.
Compare COST-EFFECTIVE SOLUTIONS
Our products deliver unique, comprehensive and cost-effective record storage and management solutions that accommodate any size business and budget.
Preview COMPREHENSIVE TRAINING
We're completely dedicated to the success of your business and like a trusted partner, we're always there with ongoing customer support.